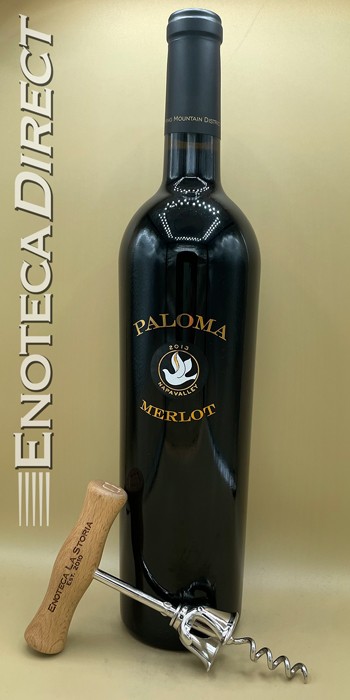 2013 Paloma Estate Merlot Spring Mountain
Napa Valley, California
"That's right, this is a Merlot. But this ain't your typical Merlot. No, my friends, this is a Paloma Merlot from Spring Mountain. About a year before the movie Sideways ruined Merlot's reputation back in 2004, the 2001 vintage of this exact wine was selected as the #1 Wine of the Year in 2003, positioning Merlot as the Top Dog grape on the California wine scene. Who could foresee that Merlot would topple off of its lofty mount so soon and so quickly?? Well, that was almost 20 years ago. Merlot has shaken SOME of the tarnish off of its once-great reputation, but it is nowhere near as popular and respected as it once was. Let's hope we can, together, help return Merlot to the good graces of consumers of California wine. If anyone can do it, I think the Richards' can. To me, Merlot's a funny grape. It has the ability to allow winemakers to make wines across a wide spectrum of styles – from bright, tangy, red-fruited wines all the way to dark, full-bodied, vanilla & spice-laden ones. This wine falls into the latter category, which makes sense given: 1) it's made from mountain fruit which lends itself toward more concentrated wines; 2) it's both fermented and aged in French oak (33% new); 3) it's got 15% Cab Sauv in the blend. It would be working against the natural qualities of the fruit to try and make a lighter, more restrained version. Here's to a Merlot with some guts and depth." -Mike Guerra, Advanced Sommelier
The 2013 is a blend of Merlot (85%) with a small amount of Cabernet Sauvignon (15%). It is fermented and then aged in French oak—33% new—for 18 months before being bottled in the Spring, then bottle-aged for an additional 18 months before release.
Cassis, licorice and dark chocolate on the nose. As expected, the wine is rich, sleek and supple, with loads of wild berry fruit, oak spice, coffee and chocolate notes. Nice depth and a pliant texture to the blue and black fruit flavors.
93 points, Wine Advocate. "This is a strong effort from Paloma that has made its reputation for ripe, sexy, full-bodied Merlots. This wine exhibits plenty of plum, black cherry and blackcurrant fruit, mocha and coffee bean in a lush, delicious and opulently textured style. It is drinking beautifully already and will continue to evolve for another decade or more."