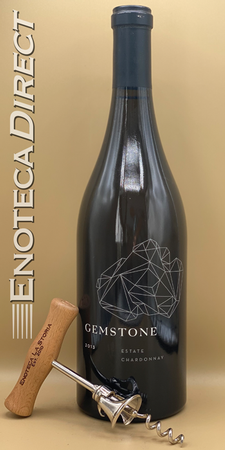 2013 Gemstone Chardonnay
Napa Valley, California
Low production, high quality Napa Chardonnay made by the famous Thomas Rivers Brown.
This wine comes entirely from Gemstone's estate vineyard in Yountville and is 100% Dijon clone.
Crisp with aromas of tropical fruit, citrus, honeysuckle and brioche, wrapped up in a rich, creamy texture. The wine has a smooth and rich mouthfeel as a result of its extended oak aging, but is balanced by minerality, freshness and a touch of tropical fruit. Only 200 cases made.
Founded by Suzie and Paul Frank in 1997, Gemstone Vineyard gained its names since the Franks owned a successful gemstone (diamond) business out of Los Angeles. After purchasing their 17-acre vineyard in 1992, the Franks then sold it in 2008 to Carole and Michael Marks, while remaining consultants for the winery to many years after. Located in the Yountville appellation, the Franks were adamant about finding land with rocky and bench land soils and a westward facing exposure. Initially, the vineyard was planted solely to Chardonnay, but over the years the owners have replanted high-quality Cabernet Sauvignon clones as well as Cabernet Franc, Merlot, and Petit Verdot. Today, the prestigious Thomas Brown is the winemaker, following the steps of the famed Phillippe Melka who made the wines prior to Thomas, and this exceptional winery has just begun to reach a case production of slightly more than 2,000 cases.