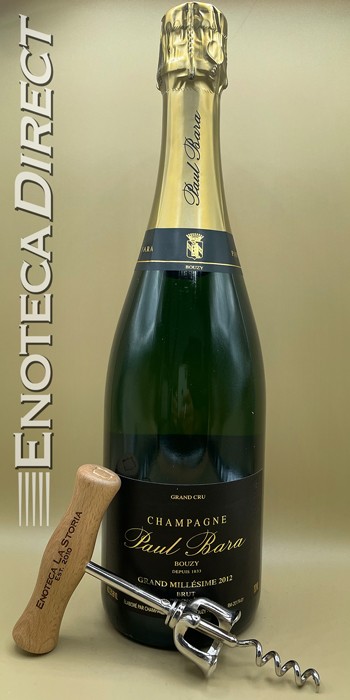 2012 Paul Bara Brut Millesime Grand Cru Champagne
Champagne, France
A vintage Champagne from one of the best grower-producers - and from a GREAT vintage! Know what that means?? It means this is truly a stunning Champagne!
90% Pinot Noir and 10% Chardonnay. All Grand Cru fruit. 35-year-old vines. Aged minimum of 8 years on the lees. Dosage is 8g/L. Smoke, slate, white orchard fruit, cherry pit and dried herbs meld together in this Brut Millésime Grand Cru.
Rich, creamy and expressive in the glass, it captures the essence of Bouzy in its pure, visceral richness. Lightly honeyed and spiced notes develop on the deeply expressive, satisfying finish as the weight of the Pinot comes through with great clarity. This is a powerful, full-bodied Champagne that shows the true greatness of Pinot Noir from the Grand Cru village of Bouzy. Bara Champagnes, now made by Paul's daughter, Chantal, are reference wines, not only for Bouzy, but ALL of Champagne.
The Bara property was built in 1860 in the heart of Grand Cru Pinot territory in Bouzy. In the beginning, it was a farm with stables, a cow shed, a sheep pen and a cellar; however, in 1965, the barn was transformed into a press room and a winery. Paul Bara, the father of today's owner Chantal, was the first of the dynasty to sell champagne under the brand of the same name in the 1950s. Bara was one of the first to export its champagnes to the United States and has become one of the most popular grower Champagnes in the states. Nowadays Paul Bara champagnes are sold on all continents of the world.