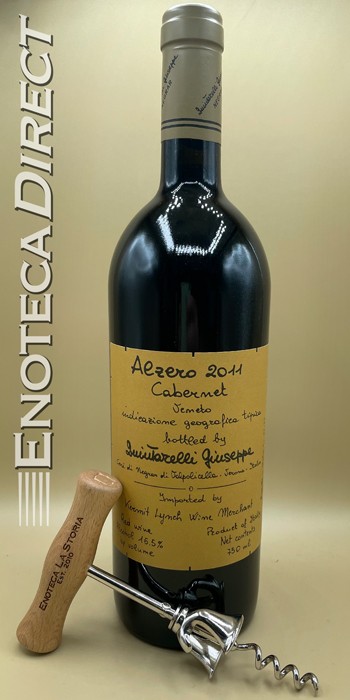 2011 Quintarelli 'Alzero' Cabernet
Veneto, Italy
The estate of Giuseppe Quintarelli, the Veneto's most important producer, has received justifiable renown for its near-mythical Amarone, Recioto and the cult wine, Alzero. As resolute traditionalists, the Quintarelli estate follows the winemaking protocol established by Giuseppe, practices he learned from his father and grandfather. Therefore, Quintarelli wines are always small in allocation, high in demand, and stratospheric in quality--even the most connected wine-lovers find the Quintarelli wines difficult to obtain. As with the estate's Amarone, Quintarelli treats Alzero's grapes (a blend of approximately 40% Cabernet Sauvignon, 40% Cabernet Franc and 20% Merlot) with the appassimento technique, drying the grapes in single layers upon straw or plastic mats for 60 to 100 days to concentrate and intensify the flavor; it's also the sole Quintarelli wine that matures in barriques, where it ages first for two or three years in French oak, followed by four years in Slavonian oak.
• 40% Cabernet Sauvignon, 40% Cabernet Franc, 20% Merlot.
• Harvested before most other grapes, at the end of August and beginning of September
• Careful selection of grapes during harvest
• After harvest, grapes sit in wooden boxes or on rush mats
• Dried grapes are pressed in mid-December
• Grapes are pressed and after 20 days of maceration, alcoholic fermentation begins with indigenous yeasts
• Fermentation lasts approximately 50 days
• Wine is then aged in French barrels for two or three years, then racked into Slavonian oak barrels for four more years
• During this aging process, additional alcoholic fermentations take place
94 points, Antonio Galloni. "The 2011 Alzero Cabernet is a bit backward today, displaying mocha-infused black and red currants offset by hints of sour citrus and animal musk, plus a dusty floral and incense component that is not quite ready to come into the foreground. It's velvety in feel yet medium in body, showing tart wild berries and exotic inner spices, all framed by a core of vibrant acidity. For all of its primary intensity, the 2011 maintains balance, leaving a glycerol-like coating of tart cherry and blackberry under an air of tobacco and sweet herbs. There's a lot of immediate pleasure to be found within the 2011, but it should also excel over medium-term cellaring. With grapes dried through appassimento, the Alzero is a blend of 40% Cabernet Sauvignon, 40% Cabernet Franc and 20% Merlot. Drinking window: 2021 - 2032."

Wine Specs
Varietal
Cabernet Sauvignon