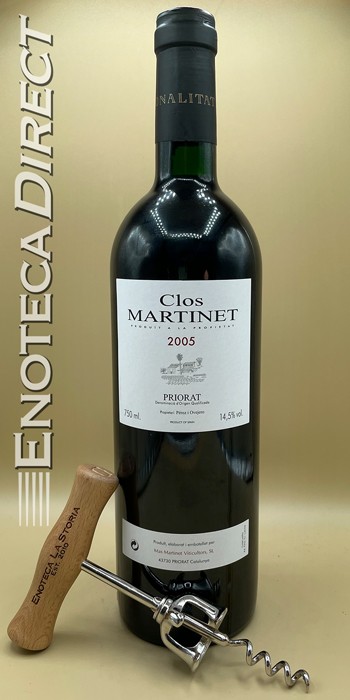 2005 Clos Martinet Priorat DOCa
Priorat, Spain
Clos Martinet is the wine of the home estate of Mas Martinet, just above the river as one winds from Falset towards Gratallops. Clos Martinet, originally owned and run by Josep Lluis Perez, was one of 'los Closos', the group which settled in Priorat and worked together from 1989 to re-envision and re-envigorate Priorat wine production. Nowadays, Josep Lluis' daughter, Sara Perez, is responsible for the day-to-day running of Mas Martinet. As well as the original farm, there are 3 single vineyards (one of which was planted by Sara herself), and in total 22 hectares of organic viticulture. The vineyards are dominated by local varieties, Garnatxa and Garnatxa Peluda, and Caranyena. There is also (a reducing) residual of French genetics planted, mainly Syrah, with Merlot and Cabernet, planted from 1990 by Josep Luis. All wines used wild yeast fermentations and the estate is moving away from 'scientific' winemaking to holistic, natural precepts.
93 points, Robert Parker's Wine Advocate. "The 2005 Clos Martinet contains a significant percentage of old-vine Carinena. Inky purple, it exhibits a brooding bouquet of mineral, scorched earth, black cherry, and black raspberry. Like the Martinet Bru, it has significant tannin but with enough fruit for balance. Dense, structured, and backward, this strapping Priorat is in need of 8-10 years of further cellaring. Purchasers must be willing to defer gratification for an extended period but they will eventually be rewarded."
93 points, Antonio Galloni's Vinous. "Youthful purple. Deep blackcurrant, cherry-cola and tobacco aromas are further deepened by musky herbs and roasted coffee. Sweeter black raspberry and candied cherry flavors offer impressive sweetness and are framed by big but harmonious tannins, which gain power with air. This wine really hangs in there, leaving a suave trail of sweet fruit and smoky minerals behind. The wine's structure bodes well for another five years or so of patience."
93 points, Wine Enthusiast. "Don't fret over this big boy's reductive, gassy aromas. They blow off, leaving schisty plum, licorice and raspberry flavors. Moderately tannic, with fine structure, Martinet ranks as one of Priorat's grand crus. Complainers may say it needs more grit and structure; the upside is that it's almost ready now and will round into quick form over the next two years."