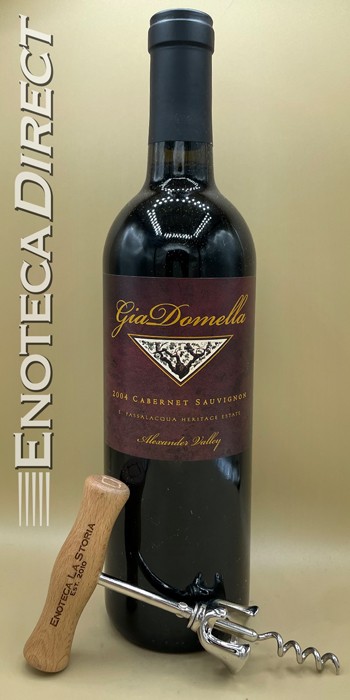 2004 GiaDomella Cabernet Sauvignon
Alexander Valley, California
100% estate-grown Cabernet Sauvignon. Aged 2 years in French and American oak, with some percentage new. Made by consulting winemaker Nick Goldschmidt (Kumeu River, Simi, Clos du Bois, Buena Vista, Atlas Peak, Gary Farrell and more!).
This library release has almost 18 years of bottle age, and is drinking beautifully. In fact, this is Mike's favorite vintage ever of the GiaDomella Cab. The wine is drinking beautifully right now. Plump, dark fruit, accented by woodsy spice and earthy mature notes of soy sauce and balsamic. The tannins have been softened by the long aging time in bottle.
You probably know the drill here and have your favorite pairings, but here are a few ideas: try it with a charred gruyere burger, a mushroom pizza with tomato sauce or some marinated ribeye steak. To champion the fruit flavors try it with braised short ribs or mushroom stroganoff. The powerful umami flavors overcome the savory quality of Cabernet Sauvignon leaving the berry flavors out in the open to shine.