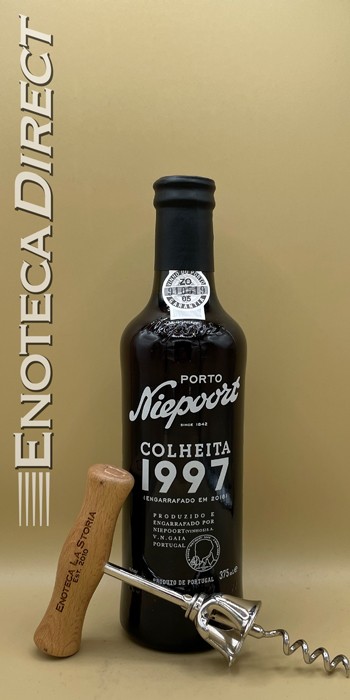 1997 Niepoort Colheita Tawny Port
A Colheita Port is a Tawny Port that is made from the grapes from one vintage. By law they must be barrel aged for a minimum of seven years before being bottled. But the tradition at Niepoort is to age them several years beyond the 7 year minimum.
The viticultural year 1997 was not typical. After a very dry winter with a hot February, the spring was rainy and very cold until May. However, the long, hot, and dry summer allowed a complete and ideal grape ripeness, giving rich, full-bodied, and tannic wines, some of them with exceptional quality. It was a year of classic and generalized declaration of Vintage Port.
The grapes were hand harvested in September and October. The wine was fermented in traditional Lagares with extraction using foot treading. Following fortification, the wine was matured for 18 years in small oak casks ("Pipas") until bottling in December 2015.
97 points, James Suckling. "What a vivid and fascinating wood port with delicate caramel, honey, dried fruit and cedar character. Medium body, yet dense and silky. Bright. Hints of tannins. This is a wonderful colheita that will improve with age as well."
95 points, Wine Spectator. "Lots of range here, featuring flavors of red currant preserves and cherries jubilee, with hints of toffee and toasted sesame. The silky, racy structure is fully absorbed. This shows a high-pitched, perfumy note that runs through the finish. Distinctive and hard not to dig into now, but the precision should carry this for a while longer.--1997 Vintage Port retrospective (Tasted -January 2017). Best from 2019 through 2035."