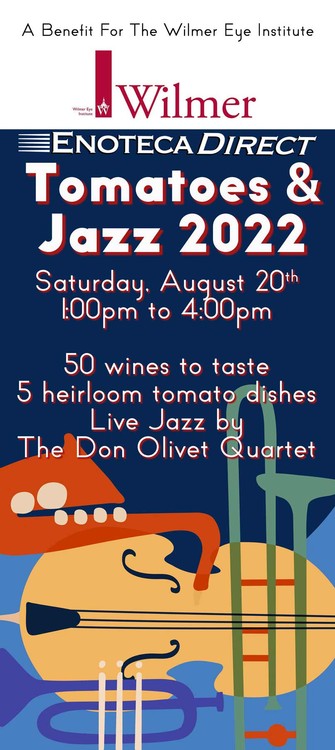 Tomatoes and Jazz: Wine, Food & Live Music
A Benefit For the Wilmer Eye Institute
Date: Saturday, August 20th
Time: 1:00pm to 4:00pm
Location: Enoteca La Storia Los Gatos (416 N. Santa Cruz Ave)
Join us for an afternoon full of live jazz, delicious summer wines, and special recipes featuring Joe's homegrown tomatoes, all to benefit a great cause- the Wilmer Eye Institute at Johns Hopkins University.
We'll be pouring fifty wines and serving five recipes made with organically grown, local heirloom tomatoes from our urban garden right here in Los Gatos. Local jazz legends The Don Olivet Quartet will be providing us with the best live jazz the South Bay has to offer.
We will be joined by a special guest, Wilmer director Peter J McDonnell M.D., the William Holland Wilmer Professor of Ophthalmology .

There will be a silent auction, including rare library wines, winery tours and guided tasting events.
All net proceeds will be donated to the Wilmer Eye Institute.
About the Wilmer Eye Institute
Founded in 1925 as the nation's first university eye clinic, the internationally renowned Wilmer Eye Institute specializes in the diagnosis and medical and surgical management of complex eye disease and is the largest research and clinical ophthalmic enterprise in the United States. Learn more about the Wilmer Eye Institute here.