May 23, 2021 | Ryan Smith
Memorial Day Wine Picks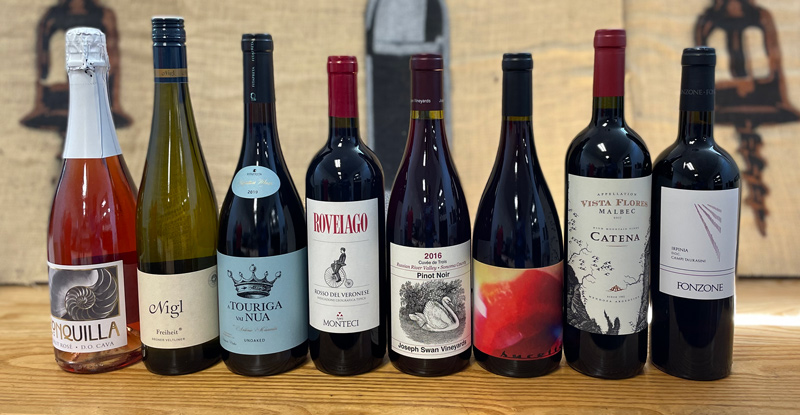 Looking for new and interesting wines to pair with your favorite Memorial Day classics? Look no further! We've got you covered. Here are a few of my picks for this upcoming weekend! ~Ryan Smith
Wine: NV Conquilla Brut Rosé Cava Penedès, Spain $14
Why: There's a lot of bad Cava out there, but this isn't one of them! 100% Pinot Noir, made in the Champagne style with a year on the lees, this wine is too cheap to believe the quality. Full bodied, bright and juicy, with a bit of creaminess added lovely texture.
Pair With: Nothing, sunshine, good friends, shrimp skewers
Wine: 2019 Nigl Grüner Veltliner Freiheit Kremstal, Austria $19
Why: Grüner is what we call "the somm's Swiss Army knife" for its ability to pair perfectly with all kinds of difficult foods, especially greens, salads, and any vegetable with astringency or bitterness like arugula, asparagus, kale or artichoke. The delicious pear, lemon and lime fruit is accentuated by Grüner's classic white pepper notes. The medium body and high but balanced acidity just pair perfectly with your beautiful Memorial Day salad or vegetable appetizer. This wine is also delicious to drink on its own!
Pair With: Green salads, asparagus, artichokes, artichoke or spinach dip, lemon chicken, grilled fish
Wine: 2019 Monteci Roveiago Rosso del Veronese IGT Veneto, Italy $15
Why: You just can't beat the price on this 100% organic, food friendly, extremely versatile medium bodied red wine. Not too earthy, not too fruity, not too tannic or too soft, this wine is delicious and fresh, with loads of juicy red fruit like raspberry, cherry, plum and blackberry with light herbal notes and a touch of florality.
Pair With: Sausages with peppers and onions, burgers
Wine: 2015 Claudie Jobard Rully Rouge "La Chaume" Burgundy, France $30
Why: This is a beautiful bottle of Burgundy at a very reasonable price (which is not easy to do these days!). Claudie is the 8th generation to farm her ancestral vineyards in Rully (southern Burgundy). This wine is so clean, pure, fresh and so damn enjoyable to drink. Light to medium bodied, with zippy acidity and just a hint of pleasant earthiness to its fragrant berry fruit, it is a perfect pairing to any salmon dish. Think Burgundy is only for the deep pocketed? Think again!
Pair With: Salmon, light chicken preparations, warm summer days.
Wine: 2016 Joseph Swan 'Cuvée de Trois' Pinot Noir Russian River Valley, California $34
Why: I love this wine- its like a classic Old World meets New World style Pinot- its medium full bodied but very balanced and elegant, with dark wild berry fruit, floral spice and forest floor aromas and flavors. There are some brisk tannins present, but the overall mouthfeel is very supple.
Pair With: Chicken with BBQ sauce
Wine: 2017 Catena Vista Flores Malbec Mendoza, Argentina $18
Why: Malbec is another grape varietal with a lot of bad examples out there- but rest assured, Catena's wines are always top class. Malbec's big, dark, concentrated fruit combined with its naturally mellow tannins and acidity make this a perfect full bodied guzzler for red meat dishes with lots of sticky BBQ sauce!
Pair With: Ribs or chicken with sweet/spicy BBQ sauce, burgers, brisket, tri tip
Wine: 2019 FitaPreta A Touriga Vai Nua Unoaked Alentejo, Portugal $27
Why: This unique, 100% unoaked Touriga was the favorite wine of our "Brisket & Big Reds" tasting earlier this year. It is so aromatic it is crazy, with aromas of mulberry, potpourri, tangy wild raspberry, red flowers and Earl Grey tea. Full bodied, with brisk tannins and super fresh acidity, this wine will be unlike anything you or your guests have tried before, and it pairs perfectly with lean cuts of beef or smoked meats.
Pair With: Any smoked meat, brisket, tri-tip, sausages
Wine: 2016 Approach to Relaxation 'Sucette' Grenache Barossa Valley, Australia $55
Why: This amazing wine comes from an organically farmed 150 year old vineyard in one of the coolest microclimates in the Barossa Valley. Although it is full bodied, with enough juicy fruit to stand up to the meatiest burger, this wine is amazingly fresh and balanced. The tannins are there, but they're not hitting you in the face, and the delicately floral, zesty finish will linger on and pair nicely were to you to add some caramelized onions, bacon, etc on top.
Pair With: Burgers, tri tip
Wine: 2015 Fonzone Aglianico Irpinia DOC Campi Taurasini Campania, Italy $38
Why: This is my favorite wine to recommend to California Cabernet lovers looking to try something Italian. Aglianico, the classic red grape of Campania, brings about a full bodied yet balanced wine with aromas of dark fruit, plum, sweet leather and iron. This wine sees a little bit of French oak, which have softened the Aglianico's natural tannin and added some sexy, barely perceptible but well integrated oak notes.
Pair With: Steak (ribeye, strip, etc)
Comments
Commenting has been turned off.