February 17, 2021 | Joe Cannistraci
A Message From Joe About Formality
What is it that I don't like about wine?
One might assume a person who switched careers, at a time of true momentum and with complete resolve, be absent of discontent for the muse that precipitated such a dramatic change in purpose. At the very least, for the benefit of his own ego, you'd expect that he wouldn't disclose it. It's "Formality." You can paint it anyway you want but the very essence of the sensory experience born from the imbibement of wine should in every way mitigate the burden of formality. It should, whether a legendary bottle or simple table wine, provide pleasure, help resolve an environment and, in the end, bring us closer together. It appears the realm is rife with formality, but I believe it to only exist in a more visible and in some cases exploited minority. The rest of us, the clear majority, simply live the wine experience.
The Story
It was impossible to taste every wine for our new venture in the time we had so we deferred to some of our best suppliers to help complete the selection quickly. The legendary Kermit Lynch was somewhere at the top of the list, they placed a wine in our $20 and under section that I had years of experience with and knew to be brilliant, a perennially excellent value. I kept walking by it and thinking "It's been a long time since I tasted this, we need to pop a bottle." Mike and I were at the end of a long Friday and had skipped dinner, we were both famished. Mike's, my business partner, he's defined by humility but has more degrees than a thermometer in both wine and collegiate academics and is very comfortable, even respected in an environment drenched in formality but really lives on the other side of it, he's a truly fascinating person. I opened a 1lb bag of a zero sugar, zero preservative, healthy, 20 different diet friendly Carne Seca that I bought from one of these flashy new Beef Jerky companies that have been relentlessly pounding face book adds through my feed. I had already had it and loved it Mike had not, we started snacking while winding down not really caring that our palates were being corrupted by the array of spices that stuff had been dredged in. "Mike lets pop a bottle of that Fontsainte, check it out, been a while". The minute the wine hit our palates we looked directly at each other, eyes wide open, knowing, without saying a word, that we were both thinking the same thing. The wine had the chops to stand up to the spice and it was actually complimentary. "Smoke, are you getting the smoke?" Mike said and immediately walked over to the sign where one of the descriptors, which came directly from the Kermit Lynch website, was "exotic woodsmoke". "I knew it he said, how crazy is this? Get a picture!". There will be a few out there who will be skeptical of pairing Chili Lemon Mexican beef jerky and Corbiéres but it worked. How's that for formality!!!! ~Joe Cannistraci
The Wine
2018 Domaine de Fontsainte Corbiéres "Réserve La Demoiselle"
Retail Price: $20
Try it yourself for $16!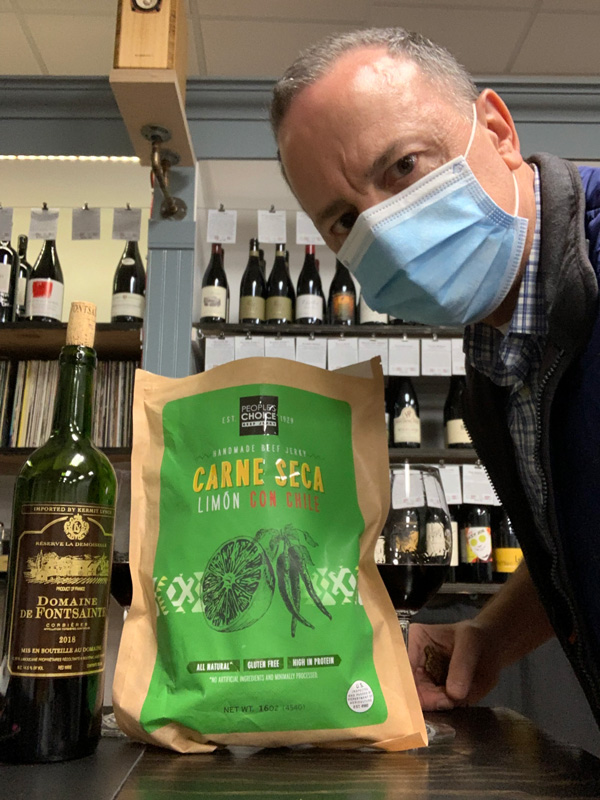 Comments
Commenting has been turned off.