December 2, 2020 | Joe Cannistraci
A Message From Joe
Ten years ago, following nine solid years of buying and selling wine, we opened Enoteca La Storia and I switched from a focus on wine to hospitality operations. The passion for wine was forever in my periphery taunting me like a bowl of my late grandmother's handmade tagliatelle, with fresh basil and sauce made from our garden tomatoes. Now that we've got hospitality at ELS covered by the inimitable Miyuki One Bear, Mike and I are back with a pure retail business and Enoteca original Ryan Smith has joined us.
What we're most excited about is using all of our combined experience to source the highest quality wines at all price points for our selection, including the many inexpensive bottles we ourselves drink regularly, in order to bring the best wines at the fairest prices to our loyal clients.
Below, please find our 12 favorite wines under $20 from our extensive tasting to stock the store, all at an additional discount for your weeknight drinking pleasure. Click on any wine to read our personal tasting notes.
~ Joe Cannistraci
Trust us? Buy all 12 as a mixed case and save even more- click here!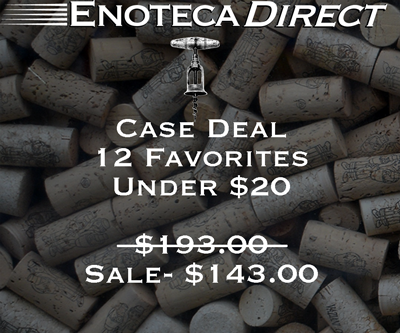 Joe's Picks
2019 Revolution Wine Co. "El Libre Malbec" Mendoza, Argentina $8.00 $10.00
"No ambient noise here, twist and pour on this puppy. It is clean mean and as easy and uncomplicated to drink as it gets. There are absolutely no rough edges to this wine, and it has the backbone to withstand and overnight journey only to improve and pick up weight. Its smooth, nearly silky and because of its price unencumbered by expectation so ends up as a surprising pleasure. Drink alone or will be excellent with a medium rare burger on a brioche bun."

2019 Domaine des Corbillières Touraine Blanc Loire Valley, France $13.60 $17.00
"This is such a good Sauvignon Blanc for the money, it's driven by purity of varietal character. There appears to be little alchemy involved in getting the wine from the vineyard into the bottle. It oddly possesses a slightly more freshness, flash if you will, than is commonly found in the more serious wines of the region like a Sancerre bot not in a bombastic NZ SB kind of a way. One of the best Sb's I've had at this price in quite a while, it'll be a perfect foil for Kumamoto oysters on the half shell with a lime shallot vinaigrette."

2019 "Red Quartz" Pinot Noir Casablanca Valley, Chile $11.20 $14.00
"This is an absolutely quaffable value of a Pinot Noir. Weighing in at a lean 13.5% alcohol it's a wine that can be enjoyed on a weeknight but doesn't lack in weight or satisfaction. After 10 minutes it develops a core of red fruit that is feathering pure strawberry, Swanton Berries in fact not the big box ones with the white centers. Try a reverse seared pork loin with a cranberry reduction."

2017 Rare Wines Zinfandel California $8.00 $10.00
"I was skeptical at first, we needed to open a retail shop in record time and add 250 wines to our existing selection and there was just no way to taste and select that many in the amount of time so we had to rely on reliable industry professionals to help. This wild value coming from one of the most reliable. Even so I still could not wrap my head around a $10 zin that was evidently "Rare". I let it go, there was too much to do. "Hey I bought this because it was cheap and geez I was surprised at how good it was" Immediately after hearing that from a charming young client I grabbed a bottle walked to the back tasting area and opened it, tasted it and was shocked at the generosity, copious fruit and its surprising balance. This is all about comfort in cold weather this one will warm you up. If you're going to have food with it grab some ribs on a Sunday and don't plan on doing much else!"

Mike's Picks
2019 Monteci Roveiago Rosso del Veronese IGT Veneto, Italy $12.00 $15.00
"This family-owned producer makes some of the best "Bang-for-the-Buck" wines we carry – the San Michele Pinot Grigio, the Monteci Rondinella, the BelleBolle sparkling rosé and THIS wine. All of these wines overdeliver. All of these wines are organic. All of these wines are delicious. Corvina, Rondinella and Merlot. Macerated on the skins for about 2 weeks. Fermented and aged in stainless steel. Enticing aromas of red fruit like raspberry, cherry, plum and blackberry with light herbal nuances and floral hints of violets and roses. Soft and pleasant, round and juicy on the palate. Extremely versatile."

2019 Pullus Haložan White 1 Liter Slovenia $12.80 $16.00
"Ah, my love affair with Pullus wines continues…I recently tasted this wine with my good friend, Jason Moore, who distributes these wines, and I couldn't resist putting it into the Classico club back in July. What impressed me about this wine was that it is wonderfully aromatic, has lovely mouthfeel (which I am a sucker for) and yet is lifted and fresh. This is the kind of wine that I could drink all through a meal. I'd start off with this wine as a palate cleanser (and just linger doing this for a while, maybe indefinitely) and then continue with it into the appetizer course…This is what people sometimes refer to as a "crushable" wine…and the fact that it comes in a LITER bottle just makes it all that much more fun. A blend of 8 different grape varieties — for those interested, they are Sauvignon Blanc, Welschriesling, Riesling, Furmint, Chardonnay, Pinot Blanc, Pinot Grigio, and Muscat. The grapes are separately fermented and aged briefly on the lees and then blended before bottling. Delicious!"

2018 Domaine des Corbillières Touraine Rouge Loire Valley, France $13.60 $17.00
"Dominique and Véronique Barbou have brought renown to their hometown of Oisly for their deep, mineral-driven cuvees from AOC Touraine. The Barbous started bottling their own cuvees in the 1950s, and the domaine has come to be regarded as a point of reference in the Central Loire. Made from equal parts Cabernet Franc, Côt (Malbec), and Pinot Noir, from vines that are about 25 years old, this Loire Valley red is a great value and a testament to the well-earned reputation of Domaine des Corbillières. It's medium-bodied and complex, with aromas of red berries, geraniums, and earth. Distinctively French, it is unique and totally fun to drink."

2018 Château Puy Servain Merlot Perigord Montravel, France $9.60 $12.00
"Okay, some of you may have tried this wine before…I tasted the 2017 vintage several months ago as well and could NOT believe how GOOD it was – and look at the price!! I went through at least 2 cases of this wine pre-COVID because it was a staple at my Monday Night dinners at my parent's house – which is saying something because my dad usually prefers to have something Italian on the table – he's Old School that way. This wine, though, was such a crowd pleaser that he turned a blind eye to the fact that it's a French wine. Château Puy-Servain is owned by Daniel Hecquet, who is one of the regions best and most innovative winemakers. He is a terrific oenologist, having honed his skills while working at Château d'Yquem and Chateau Figeac before returning home to Puy-Servain. 100% Merlot. It is vinified 100% in stainless steel tanks to retain its freshness. Pure, fruit-driven, user-friendly, and delicious!"

Ryan's Picks
2017 No Fine Print Cabernet Sauvignon California $17.60 $22.00
"I'm normally not one to reach for California Cab, but when my friend Lindsey, who loves juicy, full bodied California reds, came in looking for a wine to enjoy that night with a steak dinner, we decided to pop and try one of these. We were both drawn to the cool label (not surprising considering the artistic background of the duo behind it- they manage musicians like Skrillex and Chance the Rapper) but were more impressed by this balanced, juicy, fruit driven wine. Bursting with red and black fruit and a little bit of spiciness (though more from the Syrah and Petite Sirah than from any oak), this wine has tons of freshness and a round, smooth texture that makes it easy to drink, with or without food. It's become one of my go-to recommendations in a style that many people are looking for."

2017 Grange des Rouquette Syrah "Agrippa" Rhône, France $16.00 $20.00
"Iconoclast winemaker Thierry Boudinaud (famous in the US for his Fat Bastard line of wines) has long been a champion of quality, affordable French wines. He doesn't make this wine every year, but when he feels he gets the proper ripeness, this 100% Syrah is produced. It is named it after the Roman Governor who oversaw the building of the famous bridge, the pont du Garde. This is from the warmer southern part of the Rhône, so its more full bodied than something like a Saint-Joseph. The wine itself is dark and savory with notes of dark plum, blackcurrant, classic Syrah spice, herbs, and warm earth. This is a great wine for a rainy night and a pot of stew. I don't know about you, but with winter coming and so much time spent at home, I've been making A LOT of soups and stews."

2017 Mas de Bressades Rouge Costières de Nîmes, France $12.00 $15.00
"We were all blown away when David Netzer from the Wine House SF showed us these Mas de Bressades wines. This is one of the tastiest wines and best values I've tasted in a LONG time. The Grenache/Syrah blend comes from organic and sustainably farmed vineyards in the Costières de Nîmes, the southernmost wine region in the Rhône (although it formerly was a part of the Languedoc). With a bold nose of dusty, plummy fruit with a hint of coffee and baking spice, its a pretty serious wine, especially for the price. My first tasting notes are word for word "wow..... really nice. Juicy, mouth filling, tangy, bright but dark, same dusty plum fruits as the nose, with some serious structure." I gave it three and a half exclamation points (out of five), and then David told us the price, and I added two more."

2018 Ken Wright Pinot Noir Willamette Valley, Oregon $20.00 $25.00
"This is one of, if not the best, deal in domestic Pinot Noir that we have right now- and fans of California Pinot will love it! Oregon Pinots often tend towards the lighter, more ethereal style, but this wine isn't lean at all- its got great mouth filling fruit and the type of texture from balanced, fine tannins that one expects in a much more expensive Pinot. On the nose, its got Oregon charm, with dark berry fruit, dark floral notes and a hint of wet earth. The palate has surprisingly juicy red cherry fruit and a long finish, and it opens up considerably with some time in the glass. Easy recommendation for lovers of Pinot at any price point, let alone at $25."
Comments
facial skin care
@ Feb 13, 2021 at 2:18 AM
Everything posted was very reasonable. However, think about this, suppose you added a little information? I mean, I don't want to tell you how to run your blog, but what if you added something that grabbed folk's attention? I mean Enoteca Direct - Blog - A Message From Joe is a little plain. You could peek at Yahoo's front page and see how they create news headlines to grab viewers interested. You might try adding a video or a related picture or two to grab readers excited about what you've got to say. Just my opinion, it could make your posts a little livelier.
Commenting has been turned off.