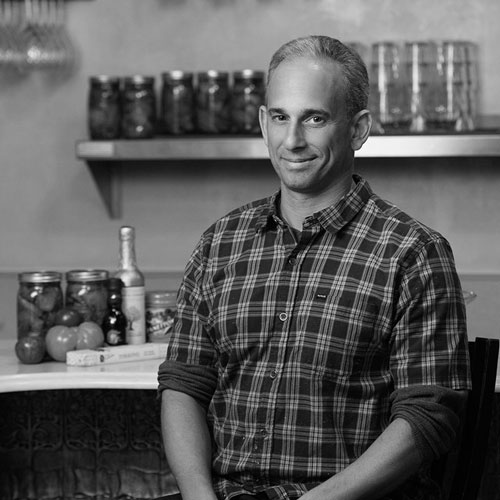 Joe ('Joey C'), seen here with his cousin (Yolanda Ganji-Chiodo) in Petralia Sottana, is co-owner and architect behind Enoteca La Storia's success as an authentic Italian eatery and purveyor of fine wines. Born in New York and raised in Northern New Jersey, Joe's "100% Sicilian" roots took hold in the U.S. shortly after World War I. Joe's paternal grandfather, Lorenzo, Great-Grandfather Andrea, and Great Uncle Carmelo, ran a successful Italian grocery store on New York City's lower East Side for many years. Equally influential on Joe was his relationship with his maternal grandfather, Calogero Bellina, who taught Joe the purest and most enduring southern Italian sensibilities. To this day, Joe travels back to the hometown of his ancestors in Sicily to spend time with his cousins, cooking, eating, and of course, drinking good wine. It is this authentic Italian heritage, still very much alive in Joe's life, which he draws on to provide guests a truly unforgettable Italian experience at Enoteca La Storia.
Joe's personal career in wine and food materialized when he moved to California—mainly for a respite from East Coast winters—in 1999. After landing in Aptos, Joe found himself able to simultaneously pursue two passions: surfing and wine. A year after relocating, a childhood friend, accomplished chef and consultant with the Blue Ribbon Restaurant Group, Sefton Stallard, visited Joe and introduced him to Sean Saint'Amor, wine and service director for the Blue Ribbon Group.
After a brief immersion into the world of fine global wines, Joe took a part-time job at The Wine Club Santa Clara - the premiere wine shop in the Santa Clara Valley. Demonstrating a natural aptitude and passion for wine, Joe was promoted to full-time Italian wine buyer and assistant manager in just 18 months. He eventually left to become a founding manager of Vintage Wine Merchants in Santana Row.
Through his outgoing personality and enthusiastic dedication to removing the mystery from Italian wines, Joe quickly developed a devoted following of customers who came to trust his knowledge and recommendations. Ever the entrepreneur, Joe partnered with friend and colleague Michael Guerra to found Enoteca La Storia in April 2010. Just one year later, Enoteca La Storia was named Best Wine Bar in Silicon Valley (San Jose Mercury News). Joe resides in Los Gatos with his family.